Howdy Iotawatt'ers,
I've been lurking for quite some time and haven't yet found a thread that seems to answer my question. I believe I have my CTs installed and my inputs configured properly in the Iotawatt, but for the life of me can't get the feeds setup correctly in Emoncms to properly display my solar generation and my electrical consumption correctly.
I started by following the Emoncms setup guide very closely but unfortunately it suggests one CT for mains and one CT for solar ('m in N. America and have opted for a CT on both L1 and L2). So how to properly import the both of those CTs into Emoncms is one question. Secondly I must be setting up the feed in Emoncms incorrectly because the solar graph and the use graph look very similar.
Inputs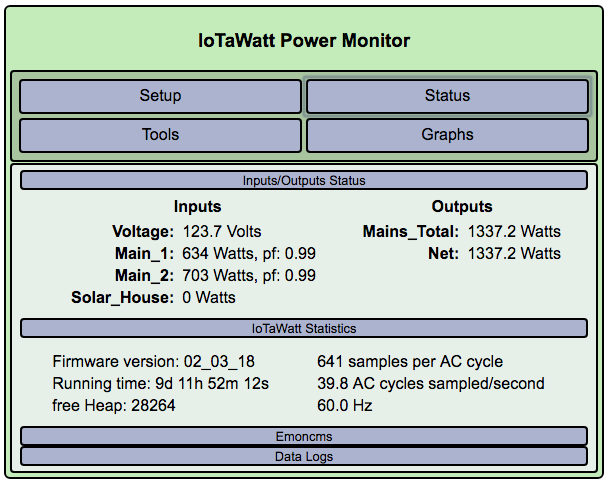 Status
Iotawatt graph (CT1 main, CT2 main, and CT3 solar)
Emoncms output
Emoncms inputs
At this time I only have CT1 and CT3 logging to anything in Emoncms (I have it setup precisely like the Emoncms setup guide). I'd like to figure out how to log both CT1 and CT2 to Emoncms to accurately show my use and the I'd also like to figure out why the solar isn't offsetting the use graphs as well. My apologies if this is more of an Emoncms question as opposed to an Iotawatt question. Feel free to tell me as much and I'll seek info elsewhere.