Greetings, I'm in the U.S., and I have 2 panels (pictures below) that are each served by 200A. The left panel has most of the big appliances/HVAC and is therefore mostly 240V circuits. The right panel is the small stuff and is therefore just 120V circuits.
Based on reading the documentation and the community, I think this is what I need. Figured I'd just start with one unit and focus on the big appliances in the left panel. When I have that working, I'll expand to the rest. Anyway, here's my shopping list for CTs–I'd appreciate it if you fine folks would look over my shoulder before I hit the "purchase" button:


Does this look right?
Also a few questions:
Can 2x60A be monitored by a 100A CT, or do I need to go up to the next level?
My two main breakers (200A) are on the outside wall by the meter. I've never seen this before (new transplant to the area). In the midwest where I grew up, the main breaker is always in the panel. Does this matter or can I just put the whole-panel CT around the incoming main at the top?
I love what others have done with orbit boxes, but my electrical panels are flush mounted in my laundry room. Ick. Trying to find a flush mount option for the iottawatt. Anybody done this?
Pictures
Both Panels: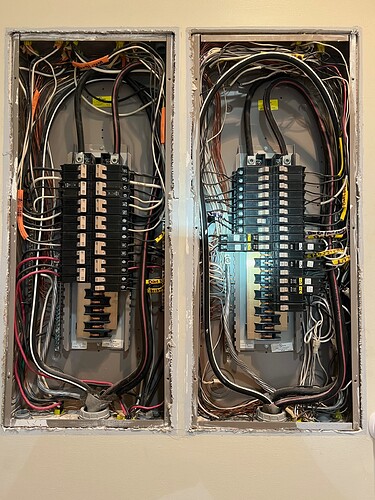 Left Panel Only: