Most of the CTs come with a 1.5m (~5') cord with a 3.5mm stereo jack. There is regular interest in extending these for various reasons.
Shorter extensions are used to facilitate connections where the IoTaWatt is near, but not close enough for all of the CTs to connect.

Longer extensions are used to connect CTs from remote locations.
I have long advocated for the use of commodity headphone extensions for both of these applications. Many have sourced them and with the exception of one user who got defective extensions (crossed connections), there have been no negative reports.
CTs produce a current proportional to the primary measured current. They push this current, regardless of resistance, to the extent that they have the power to do so. IoTaWatt inserts a 20Ω ballast resistor into the circuit. The standard 1.5m lead on the CT is about 0.3Ω. The primary consideration with an extension is that it does not increase the resistance to the point that the CT cannot push a proportional current, and secondarily, that increased resistance may increase the phase shift significantly.
What I found was that the shorter commodity extensions can add resistance, although not a deal-breaker up to about 12'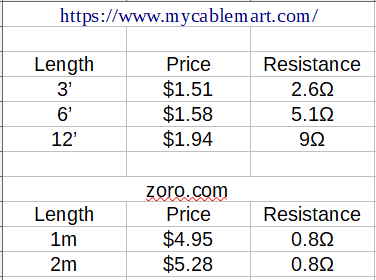 All are slim and supple, and produce the same results compared to a control CT connected to the same circuit without an extension.
I tested a 50' from MyCableMart and although it seemed to work, the resistance was very high at 42Ω. I would not recommend it and will continue to search for a source for longer extensions. Most users have opted to adapt CATn wiring for long runs. Perhaps a RJ45 - 4 x 3.5mm jack adapter would be a better way to go for long-haul.